What Can You Do with Old Electrical Wiring Waste?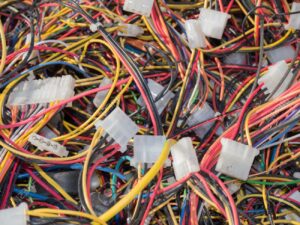 Every year we throw away over 40 million tons of electrical waste per year (and counting!), causing a major strain on the environment and contributing to harmful contaminants being released into the ecosystem. It's possible to work towards a better outcome when considering what to do with your electrical wiring waste, and today we'd like to share a few ideas and resources to help you get rid of your wiring in a responsible fashion, to help keep our oceans shimmering and our skies clean and bright. Maui no ka oi, and let's keep it that way! Without further ado, here are a few thoughts on how to reuse, recycle, or upcycle your electrical wiring today: 
Reuse-Finding a new home for your wire-based refuse can be a great way to responsibly keep them Although some companies who shall go unnamed have not been helping out very much, many other brand-based chargers and wired accessories to your gadgets are able to work across a wide variety of devices and electronics as well. Ask around to see if any aunties or uncles are in need of a replacement charger for their devices, finding a new home for the wires that would otherwise become harmful wastes in our landfills. If all else fails, you can also make a post to Maui's Freecycle group or craigslist page to see if anyone in your neighborhood would be able to make use of them as well!
Recycle-However, sometimes you just can't find any takers for your old chargers or other electrical wiring waste and need to dispose of it responsibly. Although Maui doesn't necessarily have as many E-Cycling choices as some other places in the world, rest assured that there are many helpful organizations who are invested in helping you to ethically dispose of your items in such a way as to honor our past, present, and future. Here is a list of Maui County's electronic recyclers, and for up-to-date electronic recycling information you can call the Maui E-Cycling hotline at 808-280-6460. Additionally, for general recycling information, call the Recycle Maui County Hotline at 808-270-7880.
Upcycle-Upcycling, or the repurposing of otherwise-discarded materials to create something new, can be one of the best ways to responsibly utilize your old chargers and wires into something fantastic. Activate the right side of those brains to come up with new possibilities around the home to let your creativity run wild, and to keep electrical waste out of the 'aina. Pinterest is your friend here! Get inspired by thousands of design ideas for your next project, the possibilities are endless. 
We hope that our thoughts above can help you to minimize the amount of improperly-disposed E-waste going into our landfills, and to help inspire you to find new avenues and purposes to responsibly and respectfully dispose of them. You never know who might benefit from your old chargers or project, nor just what inspiration might strike on your way to keeping our planet green and healthy. Mahalo nui!