Slide 1

CERTAINTEED-SOLAR PANEL INSTALLATION
COMPANY MAUI OFFERS THE STRONGEST WARRANTY
IN THE SOLAR INDUSTRY

Slide 1
Professional Maui Solar Company You Can Count On
YOUR TRUSTED
MAUI SOLAR ENERGY INSTALLATION
& ELECTRICAL SERVICE COMPANY
Have Confidence knowing our Professional Maui Solar and Electric Technicians
will show up and satisfy All your Maui electric or solar needs with All your needs
for Maui and Solar Panels Maui

WikiWiki Makes Solar Energy Easy To Get Started...
Get a Custom Designed Solar Energy System
Eliminate Your Electric Bill and Start Saving $$$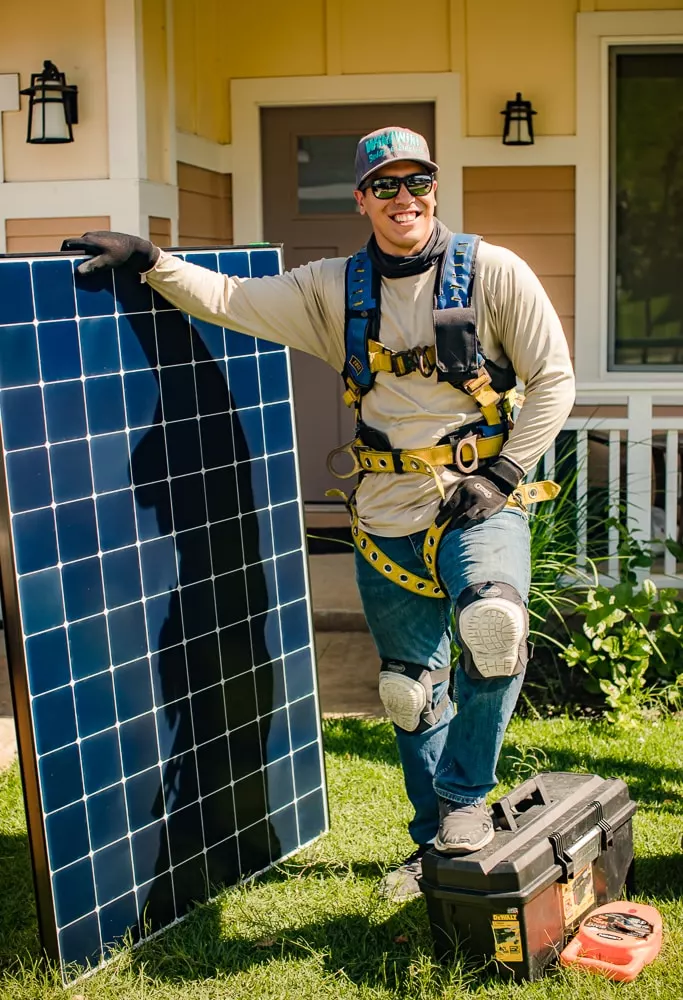 Don't Trust Your Investment On Uncertified Maui Solar Company
If you use professional, certified solar companies and installers, the system you choose to install on your home or business has long-term manufacturer warranties. Being a certified Maui Solar Company, we have licensed Maui electricians that can handle every aspect of your photovoltaic solar system. We even provide a grid hook-up or a Tesla Powerwall battery. No 3rd-parties here!
Reduce Your Anxiety

Hire A Responsive Team

Get Great Rates & Rebate Assistance

Fully Licensed to Handle All Electrical Needs
Don't get a short-circuited experience and achieve full power with the best home solar power solution for you. Get a quote to connect with our pros.
At WikiWiki Solar & Electric, we provide top-quality solar panels and battery installs from top providers like Tesla. Experience our top-rated service today.
WikiWiki Makes It Easy To Get An Electrician To Help
Your Electrician Arrives On Time
Don't Let Unprofessionalism Waste Your Time And Money
Dealing with unprofessional Maui electricians can cause significant headaches. They don't call you back, or worse, they don't show up! They're often late if they show up and lack a professional appearance. This scene causes stress, wastes time, and costs more in the long run.
High Stress
Wasted Time
Expensive
Questionable Work
But it doesn't have to be that way. Contact us today and get the highest quality solar panels Maui, electric and solar service in Maui. .
Our team at WikiWiki Solar & Electric believes in professional customer service from the moment you book your appointment to after the work is completed.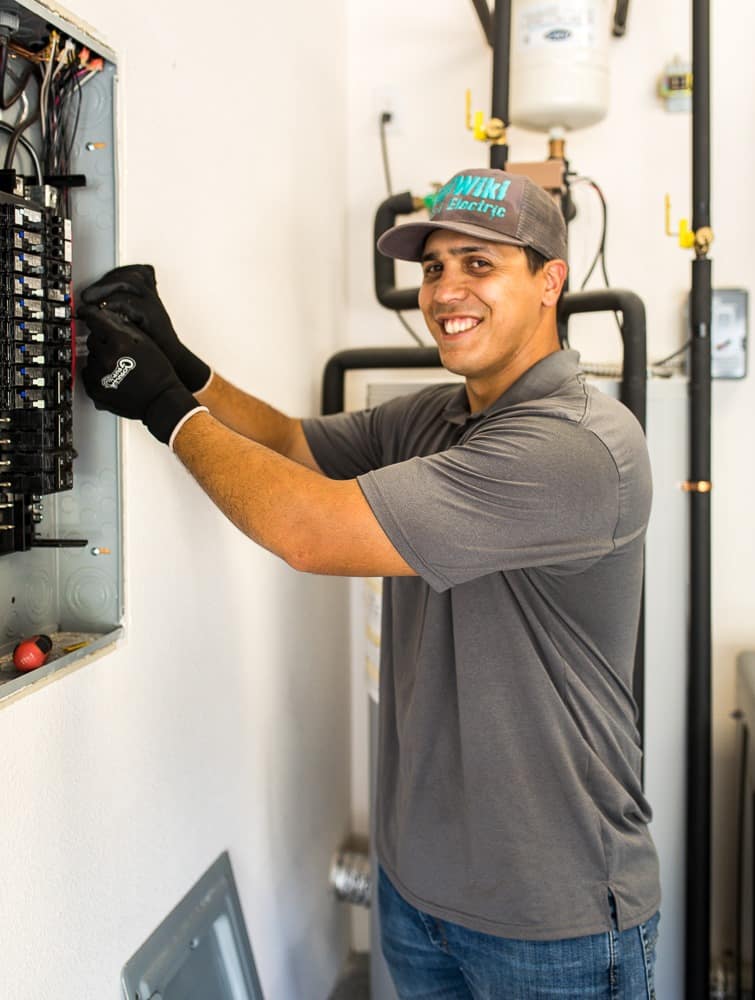 Maui Electricians You Can Trust
As a homeowner, we know you want to keep your house running smoothly. That means you need a professional when there's an electrical or solar project, but it's challenging to find someone you can trust to show up and do the job right.
We've helped thousands of Maui homeowners with their electrical work and solar projects and have the 5-star reviews to back up our professionalism. We know how frustrating it is when companies don't follow through. We believe you shouldn't have to deal with that kind of unprofessionalism.
Stop feeling stressed and anxious about the electrical work you need to have done on your home.
Schedule an appointment today, so you can quickly get back to the things that matter most.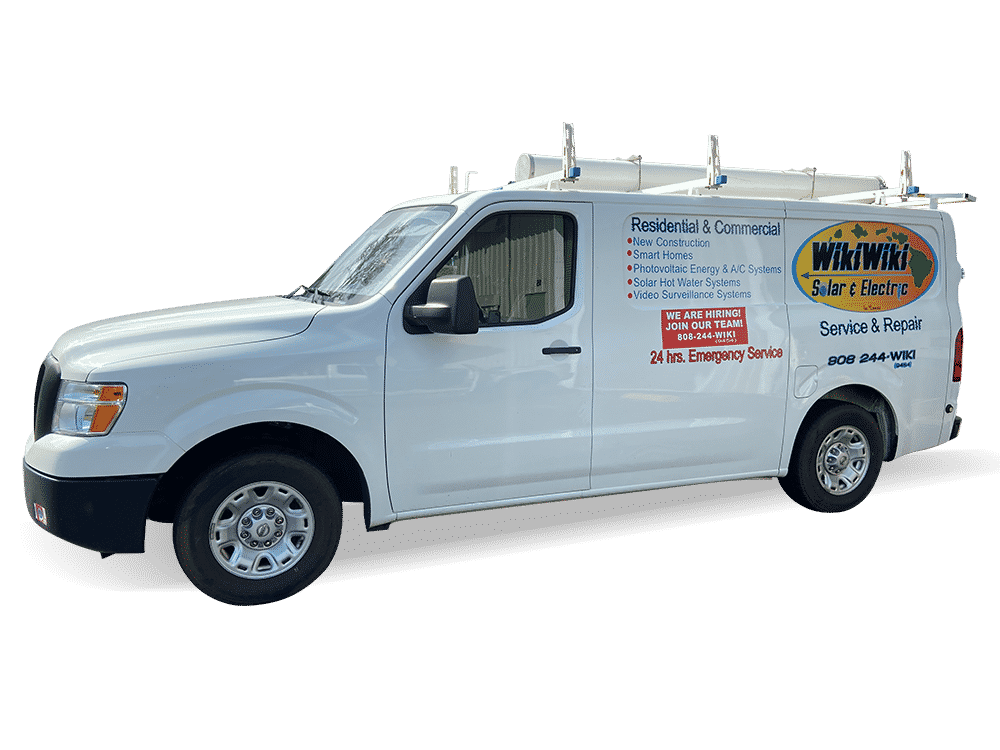 "From your first phone call to completion, you will receive professional service."
You can trust our incredibly dedicated team for your next electrical project.
If It Runs On Electricity or Solar, We Can Help
Local Technicians On Maui
StraightForward Pricing®
You'll know the cost to fix your electrical issue upfront. We'll walk you through a standard pricing menu, so you'll never have a surprise on your bill.
Professional Appearance
We'll email a photo of your technician ahead of your appointment, always arrive in a clearly-marked vehicle, and our technicians all wear uniforms and booties.
Trustworthy Actions
Our vehicles are equipped with GPS to give you an accurate arrival time estimate. You won't have to wait around all day, unsure when your technician will arrive.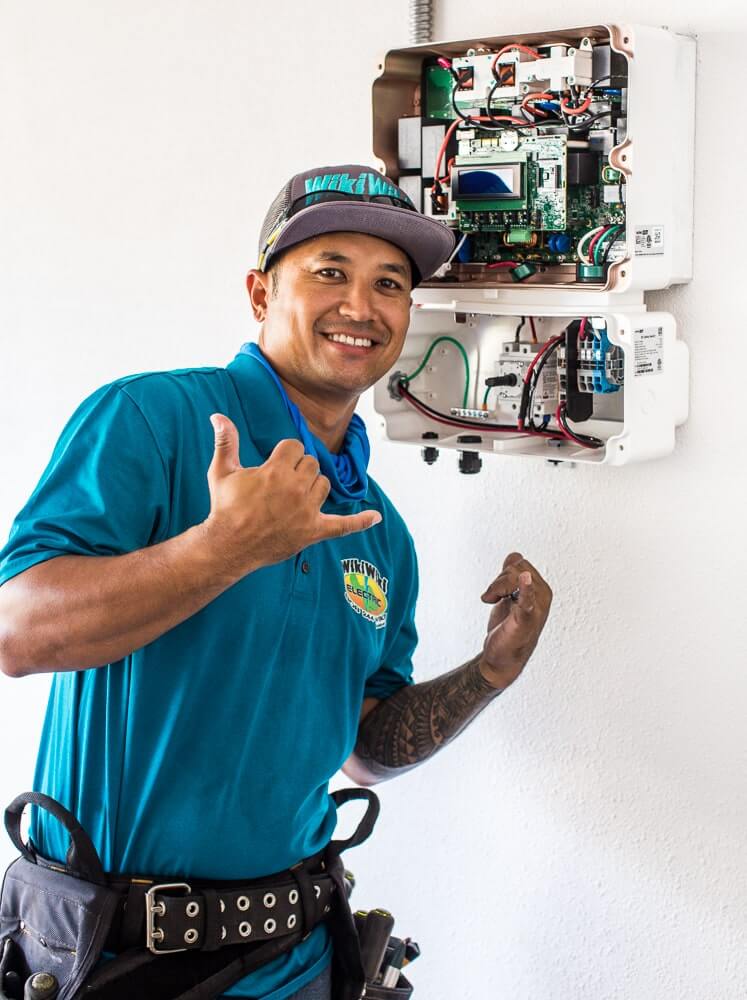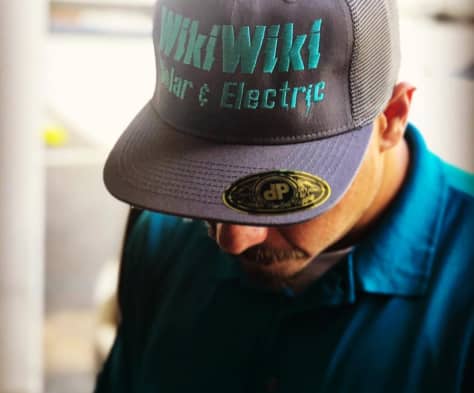 Why You Should Hire A Professional Electrician
When you hire an unprofessional or inexperienced electrician, everything in your life suffers. Your stress levels go up, your schedule is interrupted, and you may even have to waste precious time. Saving a few dollars now may cost you a lot more in the long run.
You'll have Peace-of-Mind knowing the job is done right when you call an experienced and licensed electrician from WikiWiki Solar & Electric.