What are Microgrids and How Will They Influence the Future of Energy?
Aloha, and welcome back! Lately we've been thinking a lot about the awesome potential of clean energy delivery systems (OK OK…we're always thinking about that, but even still), and thought the time was right to share with you the exciting and ongoing developments of microgrid technology and how they can help to lead us towards a smarter, more efficient energy future.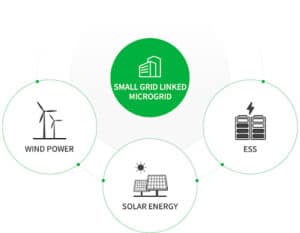 A Micro-What?
Before we get too far ahead of ourselves, it's probably helpful to tell you more about what a microgrid actually is! Microgrids are self-sufficient electrical grid systems that are able to fully disconnect from the traditional, larger grid system to operate with complete autonomy. In fact, they maintain this ability to operate autonomously regardless of the status of the macro grid system, making them both more resilient to larger grid disturbances and more flexible around their applications for delivering power. Think of them like miniature systems; connected to the larger grid, yet full functional in a pinch when needed. It's important to note that microgrids are typically not always running independent of the larger grid system, but rather simply maintain their ability to do so when necessary. 
Gotcha..but how could this change things for the better?
By engaging in a practice known as islanding – in which multiple microgrids are established to supply power to a defined region – power outages that effect a wide swath of the population can largely be avoided as microgrids continue to proliferate. 34% of new microgrid projects are located in the US, including a number of them right here in Hawaii. As our massive, nationwide megagrid continues to age and experience disruptions, new microgrids will provide the ability to keep the power flowing, even in the face of potential natural disasters or cyberattacks. 
Furthermore, microgrids have been identified as a key initiative towards creating a new 'Smart Grid' system nationwide by the US Department of Energy, establishing their Microgrid Initiative to help improve the overall reliability, efficiency, and delivery of power across the nation. The need to modernize our technology – and the need to set up cleaner, greener ways of delivering energy to our citizens – remains a critical task for the 21st Century, and microgrids represent a promising, ongoing development towards the modernization and purification of our energy needs. Additionally, microgrids have also been increasing in their ability to integrate and distribute energy via wind and solar power, allowing for a more robust and modern adaptation of power resources and move further away from the carbon-based initiatives that harm our environment. 
Indeed, microgrids are a vital and exciting part of the world's energy future, helping to modernize the delivery system while minimizing the possible impacts of natural disasters and other service interruptions. Microgrids are often able to seamlessly integrate with other green technology initiatives, such as solar power and battery storage to better help communities give aloha to the aina and create a bold, sustainable future for us all.