The Top 5 Questions to Ask Your Next Electrician
When you've got an electrical issue that needs fixing fast, it can be tempting to pick up the phone and call the first name you see in the old Google machine. But how can you be sure that the electrician you call knows their stuff and can be the tonic for what ails without adding to the headache at hand? Don't just wait and see if your next electrician will take care of business in a responsible and professional manner. Get the facts beforehand with our top 5 questions to ask your next electrical professional so that you can get the job done right the first time!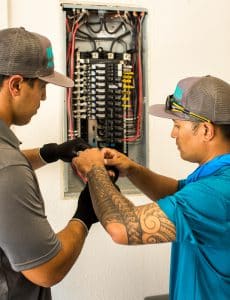 1. Are you licensed and insured?
Recall from a previous blog entry that all electricians should be licensed by the state to ensure the highest quality and standard of work, in addition to protecting your home. Licensed electricians must undergo rigorous training and participate in ongoing continuing education to keep their license active and current, making sure that they are up to date on all of the latest advances in electrical work.
2. Tell me about your experience with these kinds of issues?
You want to make sure that your electrician is experienced in working with the kinds of issues that prompted your call in the first place, which will likely save you the time and the hassle going forward (not to mention avoiding unnecessary expenses or unjustified repair work).
3. Who will be doing the work?
Ideally, journeymen-trained electricians will be onsite doing the work, not an apprentice nor a subcontractor. Apprentices must be supervised for the duration of their work, and subcontractors are not always covered under a general contractor's insurance, possibly leaving you and your home vulnerable to any accidents or other issues that might arise.
4. Do you offer any warranties or guarantees?
Ask your electrician whether or not the parts and labor for the job are under any kind of warranty, and if so, how long the respective warranty would cover you. Most quality electricians will be proud to offer you a warranty on their services rendered, along with only utilizing top-of-the-line parts in their electrical work.
5. Do you have a current business license with the state?
In addition to being in possession of a current Hawaii electrician's license, ask your electrician if they are also fully licensed as a business in Hawaii as well! This helps to protect your home from any negligence or possible accidents onsite, as registered businesses are required to carry insurance for any unforeseen circumstances. You can check the status for a Hawaii-based business here: https://cca.hawaii.gov/breg/
Of course, you can always be sure to be the beneficiary of guaranteed, bonded-and-insured electrical work on Maui by giving us a call. We take great pride in our professionalism, and always show up on time and ready to satisfy all of your electrical and solar energy needs: treating you like 'Ohana, from ours to yours! Come request a quote today and be the beneficiary of our same-day appointments and timely service.