The Future of Solar Development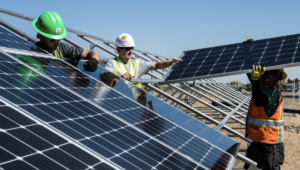 As a conscientious citizen (and loyal reader of our blog, mahalo!), you're probably already well-in-the-know that solar powered energy is beneficial for the planet because it doesn't produce any air pollution or carbon-based emissions. Score one for the environment! Just to recap for those of you who might have missed a blog or two along the way, here are but a few of the myriad benefits that solar power can deliver to the world at large:
Solar power helps to reduce our dependence on finite resources such as fossil fuels. The sun radiates with an abundance of renewable energy which can be captured within a photovoltaic (PV) system, as opposed to the costly and limited amount of fossil fuels that exist to be extracted and converted into energy.

Solar helps to reduce the amount of harmful greenhouse gases into our environment. For example, did you know that coal produces

twenty-five times

more carbon dioxide

(CO2) than solar energy to produce the same amount of energy?!

What's more, over the course of its functional lifecycle, solar power produces far less CO2 than natural gas, and a significant amount less than coal. 

Since solar power doesn't emit any carbon-based emissions, it also helps to keep our lungs cleaner and our kupuna, keiki, and all of our kama'aina healthier!
And that only begins to scratch the surface of the many benefits of solar powered energy! 
So then, you might be asking yourself: are there any downsides to the ongoing proliferation of solar power? Indeed, there are relevant points of improvement to be considered when it comes to the advancement of solar power in the wider world. For example, the technologies and manufacturing behind the production of solar panels continues to improve, but currently requires a substantial amount of expendable energy to mine and manufacture all of their materials. Quartz, aluminum, and copper must all be harvested and processed in order to produce cells to absorb the sun's rays, which can be energy-intensive work. 
Furthermore, as solar power continues to become more versatile and adapted into the power needs of the private and public sectors, there will likely be an increasing need to advance the solar panel recycling industry as more panels eventually reach the end of their life cycle. Although plants that handle recycling these cells do exist, they will need to be both scaled up and further developed for the increase in PV system adaptation in the years to come. This is actually to be expected; Kuby Energy of Canada makes an excellent point when they say that "it takes time for secondary industries to develop around primary industries…auto recyclers did not appear the day after the Model T rolled off the line." 
While it's true that the advancement of the manufacturing and responsible disposal of solar power materials will need to undergo continuous refinement in order to stay as green as possible, the development of new practices and standards within the industry are expected to keep pace with the adaptation of solar-powered energy as a renewable resource to support our energy needs and keep a smile on Mother Earth. Aloha!