How to Keep Your Family Safe During an Electrical Emergency
Emergencies, by definition, are a dangerous situation that require immediate action. Electrical emergencies are no exception, and pose a serious risk to your health and safety. We'd like to share a few strategies and suggestions to help you navigate an electrical emergency should anything happen, and to help you be better equipped to respond in a crisis to get the help that you need. We certainly hope that you'll never need to use any of the following tips, but it's vital to be prepared and in-the-know should you ever experience an electrical danger in the home or in the community.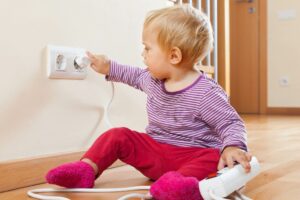 Electrical fires in the home
If you're not attentive, outlets with bad wiring or light sockets that contain bulbs with far too much wattage can start a fire when you least expect it. Old wiring and the overburdening of a power strip can quickly lead to a dangerous situation, and should a fire ignite then it's time to act fast: 
Make note of where your breaker box is! Switching off the power to your home from the electrical breaker box can help to cut off any possible 

Make sure that you have the right extinguisher on hand. There are many different kinds of fire extinguishers, all corresponding to the source of a fire. Class A extinguishers are water-based and useful for when the power has been turned off, whereas Class C extinguishers are best for when an energized source is the cause of a fire and power cannot be shut off. 

Evacuate and call 911. There's no substitute for safety, and it's best to ensure that your family remains safe in case the fire reignites. 
In Case of Electric Shock
Should someone receive an electric shock, it's critical that you do not move them, nor go anywhere near a potential shock yourself. Keep a safe distance from the origin of the electrical hazard and shut off the power, then call 911 immediately and wait for medical assistance. 
Possible Dangers in the Community
It's entirely possible that you may encounter downed power lines or other electrical hazards while out and about on Maui, particularly after a storm or a notably windy day. Make sure you keep a very safe distance from the hazard (we're talking 50 feet or more) and call 911 to report any injuries on scene. You should also call Hawaiian Electric's trouble line at 808-871-7777 to report the issue for immediate action. 
Electrical emergencies are indeed no laughing matter, and can be quite frightening to behold. Faulty wiring, appliances, and even your home can be replaced, but there's only one of you, and you are in fact irreplaceable to your family, friends, and community. Make sure to take the appropriate precautions listed above to ensure you and your family's safety, and there's never been a better time to have a qualified, certified electrician inspect your home for any potential hazards in need of fixing. We'd be honored to help keep your 'Ohana safe and secure, give us a call to schedule an inspection today.