Don't Hire an Electrician Playing in the Minor Leagues: Go With a Pro!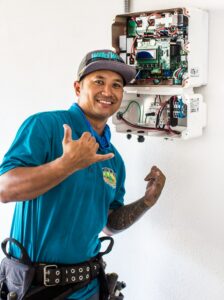 Having an unexpected electrical emergency is probably not the highlight of your day (or night). It can be a major inconvenience to schedule the repairs, and how do you even decide on who to call? You might well be asking yourself: self, do we really need to hire a licensed electrician, brah? My uncle knows what he's doing, let's give him a call, yeah?! Well before you let uncle use your home as a practice, consider the many reasons why it's best to hire a licensed, bonded electrician for all your home's electrical needs: 
Timely Service
Unfortunately, an electrical emergency likely isn't operating on your schedule, and darn if they don't always seem to strike at the most inconvenient times. Best be sure your electricians aren't operating on 'island time' when you need them the most! The aggravation in trying to find a quality service person for your electrical needs can be maddening, to say nothing about trying to get someone to come out for same-day fixes and installations. Hiring a professional contractor right off the bat will alleviate the inevitable headaches of scheduling and timeliness, and make sure the job gets done right the first time.
Quality of care
Too often, folks think that they'll be saving money by hiring someone without a license to do their electrical work under the table. Not only is it against the law for someone to carry out such work without a license, it's also extremely dangerous. Complex projects and involved repairs require the experience of a skilled worker, and all licensed electricians in Hawaii have undergone both rigorous training and continuing education, making them the right call for your next installation or in-home repair. Don't get left out of the loop, especially when it comes to staying up to code!
Knowledge and Know-How
Hiring a licensed, bonded electrician is the best way to get your remodeling project or major installation started on the right foot. A licensed electrician can help with anything from ceiling fans to pool motors, from appliance installation to troubleshooting major electrical issues. Hiring a licensed electrician gives you the peace of mind that they'll bring the knowledge and the know-how to the job at hand, along with the safety of knowing you're in good hands should any repairs be needed to your electric system.
The benefits of professionalism
It's beyond frustrating trying to coordinate your schedule around household issues, like a power surge or faulty light switch. Save yourself the trouble right off the bat and request a contracted electrician who can get your problem fixed and get you back to living your life! Here at WikiWiki Solar and Electric, our electricians will walk you through our standard menu of prices before any work has been completed, leaving no mistake as to what you can expect on your bill. Additionally, all our work trucks come readily equipped with real-time GPS, allowing us to give you an accurate estimate for your technician's time of arrival! We'll always make sure to email you a photo of your technician ahead of time and rest assured that we're continuing to take all the CDC-recommended COVID-19 precautions as we continue our work in the community. Maui no ka oi, #ohananuistrong!