Why You Should Always Hire a Licensed Contractor
We know it can be tempting to entertain the idea of hiring an unlicensed contractor for your next project under the 'handyman exception,' which allows the hiring of a person not licensed as a contractor on smaller projects. After all, who doesn't go wild at the thought of saving a little moni?! However, most don't realize that hiring an unlicensed contractor also comes with the potential for serious liability and damages, leaving you with far less moni than you started with! Building off of our previous entry on why you should hire a licensed electrician, we thought we'd expand on things to talk a bit about why you need to make sure to only hire a licensed, bonded contractor for your next project or renovation as well!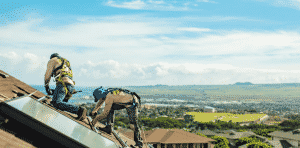 Staying on the Right Side of John Q. Law
First off, depending on your project, it's the law! A contractor's license is required for any project that either requires a building permit, or in which the cost of both labor and materials exceeds $1,500 (aka most major home renovations, constructions, etc). As noted by the State Department of Commerce and Consumer Affairs (DCCA), an electrician's or plumber's license is also required for any electrical and plumbing work as well. Running afoul of state contractor laws can result in heavy penalties and fines, quickly adding up to much more than you bargained for.
Accept No Substitutes
A licensed contractor has undergone rigorous training and apprenticeship to obtain their experience and knowledge, and have also undergone extensive background checks from the Hawaii State DCCA. Unlicensed contractors afford none of the same protections and vetting from the state, leaving your home and your project vulnerable to costly mistakes and delays. Sometimes they are even news-worthy!
Protecting Your Home and Your Finances
Did you know that you could be liable for any accidents or injuries that occur when working with an unlicensed contractor, much less plumb out of luck if anything is damaged while the work is being completed? You do now! Licensed contractors are mandated to carry both worker's compensation and onsite liability insurance, giving your household or business protection should any mishaps arise.
Staying Up to Code
Trust us, you don't want the hassle of finding out your renovations are not in compliance with city ordinances. Massive fines can result from unlicensed contractors who are not familiar with all the appropriate regulations, to say nothing of the wasted time and additional expenses to make things right! A licensed, bonded contractor can help you to make sure all of the necessary permits are documented with the city/county/state, along with any necessary inspections and statutory regulations.
Seeing Things Through to the End
A licensed contractor will take full responsibility for your project; if something goes wrong, ignoring it or ending the job prematurely can result in a full loss of their licensure with the state. A licensed contractor will make sure to address any unforeseen issues as they arise and help make sure that your project works to its completion and to your ultimate satisfaction.
Make sure that you protect your home and your family by hiring a licensed, bonded contractor for your next project. You can always check to see if your contractor is licensed by calling the Licensing and Business Registration Information Section at 808-587-4272, or by clicking on this link: https://cca.hawaii.gov/rico/business_online/. Aloha!